SPECIAL ANNOUNCEMENT!
Federated a Major Sponsor of FMI Connect 2015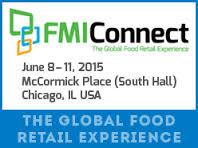 As a leader in the industry, Federated is committed to private brands and is proud to announce that we are a major sponsor of FMI Connect 2015! We encourage you to take advantage of everything this outstanding industry event has to offer.
In addition, we have some exciting news to share... Federatedís own V.P. of Marketing, Charley Orwig will be presenting at FMI Connect on the critical subject of graphic supply chain management and its importance as we approach the FDA's 2018 labeling mandate.
Charley will speak on this topic during two sessions on Tuesday, June 9. One from 11:30-11:50AM and one from 12:30-12:50PM. We hope to see you at these sessions and at the Federated kiosk in the Private Brand Zone!
This year's keynote speakers include Carey Lohrenz, the Navy's first female Tomcat F-14 fighter pilot who will share the fundamentals of success that can help your team win; FMI President and CEO Leslie Sarasin will give a high-level examination of new 2015 U.S. Grocery Shopper Trends, and famed CBS sportcaster Greg Gumbel will moderate a panel of winning coaches on developing, inspiring and maintaining strong teams.
Registration for FMI Connect is open now. We look forward to seeing you there!