Member Spotlight - 7K Farms, Inc.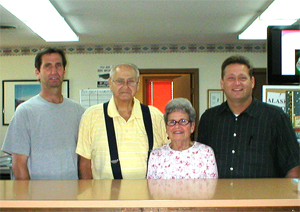 (Pictured here: Kirk, Chuck, Marie & Jim Kleinhenz)
Today's Member Spotlight features 7K Farms, Inc., a family-owned business that initially focused on eggs but is now a successful wholesale food distributor, stocking 3500 items plus fresh meats and produce. They pride themselves on serving the community, meeting individual customers' needs and offering the highest quality ingredients, all while enjoying the benefits of working together as a family. 7K Farms also runs a Cash and Carry store, rents refrigerator and freezer trailers, handles mail order products and sells gift baskets.
The company name started as 7K Feather Farms, in honor of founders Chuck and Marie Kleinhenz's seven children and signifying the fact they were an egg company. Eventually they dropped the "Feathers" from the name as they expanded into a full-service wholesale food business. Here's a little more about 7K Farms from the President, James Kleinhenz.
1. When was your business established and where are you located?
Our company got started in 1975 and we are located Taylorsville, Indiana.
2. Tell us a little about your customer base.
We service independent restaurants, country markets, convenience stores, schools and jails.
3. What are some challenges you are facing right now?
Our biggest challenges is keeping good sales people and retaining employees who want to show up for work each day.
4. What's working to help your company keep growing and innovating?
A big success for us has been offering multi-day deliveries to about 75% of our customers where feasible. In addition, we have a no minimum delivery policy.
5. What is a major piece of advice you can give to other Federated members?
Our biggest piece of advice is don't stop knocking on doors. Never give up, success is just one door away.